The following rats are no longer with me.
Muddiwarx Jenny was a friend of mine
Reason for the name: Name of a Killers song
Striped Roan with Downunder
Born 4th August 2012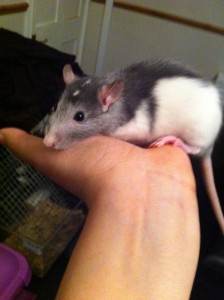 Bohemian Remus
Reason for the name: It's the surname of a character in Harry Potter
Blue Russian Self
Born 24th August –
Bog Myrtle Rory
Reason for the name: Name of a character in Doctor Who
Agouti Berkshire Rex
13 March 2011 –
Bohemian Lennon
Reason for the name: Names after my favourite member of the Beatles John Lennon
Black Hooded Rex
Born 9th March 2011Â  –
Ramkin Blake
Reason for the name: Names after the character from a book Anita Blake
Marten Irish
Born 20th July 2011 –


Ramkin Carter
Reason for name: Character from book by Richelle Mead
Marten Roan Odd eye
Born 20th July 2011 –
Bog Myrtle Ziggy Stardust (Ziggy)
Reason for name: David Bowie album
Silver Fawn Berkshire
Born 6th November 2011
Endeavour Frost
Reason for name: Character from a book by Laurell K. Hamilton
Roan British Blue
Born 5th March 2012
Gaia  Lister
Reason for the name: I love Red Dwarf and Lister is the name of one of the characters in the programme.
Black Berkshire Rex
Born on 8th March 2011 Currectly 8 months old
Bog Myrtle Eustace
Reason for the name: Eustace is the name of my favourite human character in the Narnia books.
Russian Silver Agouti
Born 13th August Currectly 15 months old

Bog Myrtle Gillespie
Reason for the name: I'm a fan of the feeling and the name Gillespie is part of the lead singers surname.
Silver Fawn
Born 5th August 2010 died 22nd Jan 2011

Bohemian  Ramsses
Reason for the name: I like Egypt and Ramsses is the name of many kings in Egypt.
Black Berkshire
Born 24th August 2010 died 22nd Jan 2011

Ratz4life Alonso
Reason for the name: I like Russell Tovey and it's the name of the character he plays in a Doctor Who episdoe
Black Roan
Born 3rd Feb 2010 Died 31st December 2011

Alonso had been slowly getting thinner and just not keep weight on so the other day I felt it best to let him go.
Over the last month I've noticed he has been very effected by the lose of Dorian and we have helped each other though it but it just got too much.
Alonso was never a people rat very shy but showing a great deal of love to Jareth, Jasper and Dorian but as after each lose of his close cage mates we became closer. He would rather sleep and cuddle with me any protection from grumpy Gillespie was always from me and not his brother.
I will miss him a lot he helped me a great deal with the lose of Dorian and I will always be thankful for that. He was always looking after others.
Goodbye enjoy rat piles again.
Rats4life Dorian
Reason for the name: He has very dark eyes like Ben Barnes and Dorian is the name of a character Ben has played
Black Roan
Born 3rd Feb 2010 Died 30th November 2011

My wonderful heart rat has been helped to rainbow bridge today and I just wanted to share some things.
I arranged to move into a new place and I was so scared I would be all by myself no housemates. I decieded as a housewarming pressie to myself I would get 2 more rats. So I arranged to pick them up a few days after I moved.
The housemove seemed to go as a right mess my friend has a accient and was unable to help me and I was so stressed.
I got to the breeders house to pick you both up I had names already picked out and you we're going to be Mitchell.
I was told I could have who I wanted.
You we're put into my hands and you started bruxing staight away looking up into my eyes it was almost as if we both knew.
At home I was down everything had got to me and I got you out as you we're at the bars just looking at me. When I picked you up you we're all bruxing and then ran up on to my shoulder and gave me a little kiss on the cheek. It was almost as if you knew.
As the night went on I knew I picked the wrong name for you and it must have taken me a week to decide on Dorian.
You we're never scared and you we're obsessed with shoulder riding loving being with people. First rat I entered into a show and I was so happy when you got 4th.
Everyone seemed to love you and you lapped it all up.
You seemed to be the rat that welcomed every new rat into the cage and if a rat didn't want to be friends you made them by making a big rat pile. They gave into your cuddling aways.
I will miss you a great deal and you have that piece of my heart.
I hope you enjoy your rat pile with Jasper and Jareth over rainbow bridge.
Bog Myrtle Jareth
Reason for the name: My favourite film of all time is Labyrinth and I'm a big Bowie fan.
Russian Blue Point Himalayan
Born 7th Nov 2009 Died 2nd September 2011
Jareth your my first one to go and I'm going to miss you so much I felt sure your brother was going to be first. At least I can be happy in the knowledge that even in death Dorian and Alonso didn't want to leave you alone and wanted to keep you warm.
I remember the day I picked you up and you we're so small and I was just as scared as you about having you in my life so worried that I would do something wrong.
You we're always a mummy's boy my first heart rat first one to lick my hand first one to ride my shoulder and then as Jasper became the boss you were quite happy to just be there and cuddle.
Then all the other ratties came into our lives and it didn't seem to bother you.
The first day after Dorian and Alonso joined you I found them all cuddled up with you and you had this happy look on your face. As if to say ah more cuddles I could get use to this and you did.
I remember taking you to a show and everyone thought you we're so lovely and wanted to hold you but you we'ren't very happy leaving me so tired to hide in my hair then trying to get a photo session done just didn't seem to work but I love the pictures that Sarah took.
Thank you Jareth for being in my life.
Bog Myrtle Jasper
Reason for the name: I like Twilight and wanted a J name
Russian Blue Point Siamese
Born 7th Nov 2009 Died 12th October 2011

Jasper was Jareth's brother and although they had they fights when younger as they grew older they grew closer. After Jareth died last month I felt that Jasper depression had increased his ill health and it was now time.
He was always a cheeky one and was the Alpha for quite some time Dorian and Alonso soften him up though with they love of Rat piles.
Cuddles with Jasper we're rare yet you felt a real honour with them as he gave you his all when he did cuddle.
He loved his cardboard boxes and any rat that tried to take over his box soon knew it was a bad idea.
I will miss you and thank you for being in my life.